Daniel Alves da Silva (born 6 May 1983 in Juazeiro), commonly known as Dani Alves, is a Brazilian footballer. He plays as an attacking right defender for FC Barcelona and the Brazilian national team. Before joining Barcelona, Alves spent a successful six year spell with Sevilla FC, winning two UEFA Cups and the Copa del Rey with the Andalusian side. He joined Barcelona for €32.5m,becoming the most expensive defender to date. Alves won the Treble in his first season with the club and a further Spanish super cup, European super cup, and FIFA Club World Cup, thus achieving the Sextuple. Also, he helped the club to clinch another Spanish super cup, two league titles, and a UEFA Champions League in the years that followed. Alves has held a Spanish passport since 2005.
In June 2006, Sevilla had agreed to sell Alves to Liverpool, but they were unable to match their asking price of around £8 million. In December 2006, he signed a new contract with Sevilla, tying him to the club until 2012. He had a successful 2006–07 season, making 47 appearances and scoring five goals. He also played in every one of Sevilla's UEFA Cup matches which the club went on to win.
On 2 July 2008, Alves joined FC Barcelona. He left Sevilla in tears and said that he would love to play for Sevilla again. He said that he came to Sevilla as a boy and is now leaving as a man, but later broke down in tears at the press conference. The official price of the transfer stands at £23 million up front, with about £7 million more to pay depending on a number of performance related factors over the next few seasons of Alves' Barcelona career, making him the world's most expensive defender and the third most expensive player bought by Barça. He signed a four-year contract with Barcelona, that includes a buy-out clause of €90 million.
Alves made his Brazil debut as a substitute in an unofficial friendly match against Kuwait club Al-Kuwait Selection on 7 October 2006. Three days later, he earned his first international cap in a friendly against Ecuador. He was included in Brazil's team for the 2007 Copa América. He appeared in four matches including the final against Argentina, where he gave an assist and scored a goal in a 3–0 victory. Despite being the most expensive right-back in history, he has been unable to hold down a regular starting spot in the national team with Maicon being the first choice ahead of him. Alves came on as a substitute in the 2009 FIFA Confederations Cup semi-final against South Africa and scored the winner, a free-kick and a traditional Brazilian full back goal in the style of Roberto Carlos in the 88th minute in a 1–0 win.[22] He scored another long range free-kick against Iran on 7 October 2010.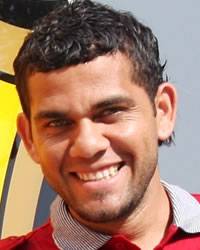 Best Smile Daniel Alves
Daniel Alves Look so Handsome
Daniel Alves Wallpaper