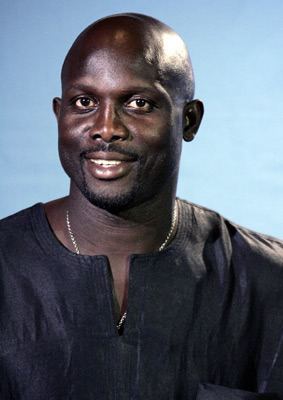 George Tawlon Manneh Oppong Ousman Weah (born 1 October 1966) is a Liberian politician and former football forward. He spent 14 years of his professional football career playing for clubs in France, Italy, and England, and won trophies in each of these three countries. In 1995, he was named FIFA World Player of the Year, European Footballer of the Year, and African Footballer of the Year. Weah has since become a humanitarian and politician in Liberia, and ran unsuccessfully in the 2005 Liberian presidential election, losing to Ellen Johnson Sirleaf in the second round of voting. Weah is the only FIFA World Player of the Year who failed to qualify for the FIFA World Cup with his national team.
George Tawlon Oppong Ousman Weah was born on October 1, 1966 in the Clara Town slum of Monrovia, the capital of Liberia. Little did his parents know at the time that their baby boy would one day rise to become their country's most famous son.Raised largely by his grandmother, Weah studied hard at school although it was apparent from a young age that he was destined for football stardom. Little George Weah was prodigiously talented with a football at his feet but this aptitude wouldn't truly become evident until he made the move overseas.
Weah moved to Europe in 1988 when he was signed by Arsène Wenger,the manager of Monaco, who Weah credits as an important influence on his career. At Monaco, Weah was a member of the team that won the French Cup in 1991. In the 1990s Weah subsequently played for Paris Saint Germain (1992–95), with whom he won the French league in 1994 and became the top scorer of the UEFA Champions League 1994–95; and AC Milan (1995–1999), with whom he won the Italian league in 1996 and 1999. In 1995 he was named European Footballer of the Year and FIFA World Player of the Year. Weah also became famous at Milan for scoring a wonder goal against Verona at the San Siro. After leaving Milan in January 2000 Weah moved to Chelsea, Manchester City and Olympique Marseille in quick succession, before leaving Marseille in May 2001 for Al Jazira FC, in the United Arab Emirates.
As successful as he was at club level, Weah was not able to bring over that success to the Liberian national team. He has done everything with the squad from playing to coaching to financing it, but failed to qualify for a single World Cup, falling just a point short in qualifying for the 2002 tournament. This has all led to Weah being known as one of the best footballers never to have played in a World Cup.
George Weah Expression
George Weah Poster
Weah obtained a plurality of votes in the first round of voting on 11 October, garnering 28.3% of the vote. This qualified him to compete in a run-off election against Sirleaf, the second placed candidate. However, he lost the run-off to Sirleaf on 8 November, garnering only 40.6% to 59.4% for Sirleaf. Weah alleged that the election had been rigged through voter intimidation and ballot tampering, and many of his supporters protested the results in the streets of Monrovia. However, after assurances that the vote was fair several prominent African leaders called on Weah's supporters to accept the result with grace and dignity, and Sirleaf became President. The African Union had characterized the elections as "peaceful, transparent, and fair".
George Weah Performance