Vítor Vieira Belfort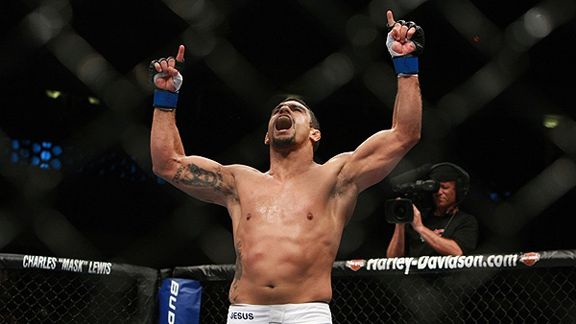 Vítor Vieira Belfort (Portuguese pronunciation: [ˈvitoʁ bewˈfɔʁt]; born April 1, 1977) is a Brazilian mixed martial artist and former UFC Light Heavyweight Champion. Belfort was born in Rio de Janeiro and studied jiu-jitsu with the Gracie family, namely Carlson Gracie. He received a black belt under Carlson Gracie and currently trains with Xtreme Couture. Belfort fights in the middleweight division and is ranked the No. 5 middleweight in the world by Sherdog.com
Mixed martial arts career
At the age of 19, Belfort came to the United States to compete. In his first sanctioned mixed martial arts match, an event called Superbrawl in Hawaii, his opponent was Jon Hess, who the young Brazilian defeated in 12 seconds by knockout (KO).
[edit] Ultimate Fighting Championship
Soon after, he moved on to compete in the UFC, where he was given the nickname The Phenom. He beat two fighters in his debut event in the UFC, winning the UFC 12 Heavyweight Tournament. At age 19, Belfort became the youngest fighter to ever score a victory inside the octagon. Belfort's next match saw him score a technical knockout (TKO) against the UFC 6 runner-up Tank Abbott in a non-tournament fight, knocking Abbott down and finishing him with a ground and pound attack.
In 1997 Belfort fought against American Greco-Roman wrestler Randy Couture, the first of three fights they would have. Belfort was upset by TKO 8:16 into the match, his boxing skills negated by Couture's clinch fighting. Belfort won his rematch with Couture 7 years later due to a cut sustained by Couture 49 seconds into the bout. He lost their third and final match via doctor stoppage.
After this defeat, he would fight twice more in the UFC. The first of these fights was against a training partner of his, Joe Charles, who he defeated quickly via armbar without throwing a single punch. A year later, Belfort faced rising Brazilian star and future Pride Middleweight champion Wanderlei Silva. Catching Silva early with a left cross, Belfort chased him across the ring with a flurry of punches, TKOing Silva in just 44 seconds.
PRIDE Fighting Championships
Vitor then moved on to fight in Japan's Pride Fighting Championships. His first opponent was Kazushi Sakuraba in 1999. Vitor controlled the first minutes of the fight before breaking his hand,[4] the remainder of the fight was spent on his back being stomped and kicked by Sakuraba. Following the fight he stopped training with Carlson Gracie and started to train with Brazilian Top Team.
He fought five more times in Pride against Gilbert Yvel, Daijiro Matsui, Bobby Southworth, Yoshiki Takahashi, and Heath Herring. For these matches Belfort used his stand-up striking skills less and instead controlled the fights and won by ground-and-pound tactics, with the exception of his fights with Southworth and Takahashi, which he won via rear naked choke and knockout in the first round respectively.
ADCC Championships
In 2001 Belfort participated in the ADCC championships, in their Absolute division. Pior to that competition he had already faced Hiroki Fukuda, winning by submission, and Mark Robinson, losing by points. In the championship Belfort faced Genki Sudo, winning by points, Ricco Rodriguez, winning by points, Ricardo Arona in the semi-final, losing by points and finally in the 3rd place fight defeating Ricardo Almeida by points, winning the bronze medal.