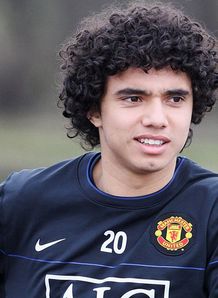 Fábio Pereira da Silva (born 9 July 1990), commonly known as Fábio or Fábio da Silva, is a Brazilian footballer who plays as a full-back for Manchester United of the Premier League, along with his twin brother, Rafael, who were signed by Manchester United in February 2007.
Fábio was born in Petrópolis, "
The City of Peter
", approximately one hour's drive away from Rio de Janeiro in Rio de Janeiro state, and began playing football from the age of five. He and his identical twin, Rafael, would play five-a-side in the city. They were then spotted by a representative of Fluminense, who gave them the opportunity to play for the club; they went to live at the club's training center at Xerém when they were just 11 years old.
Fábio began his football career as a defensive midfielder with his local club, Boa Esperança, but he was converted to left back when he joined Fluminense of Rio de Janeiro.With Fluminense, Fábio took part in the 2005 Nike Premier Cup in Tokyo, where he was spotted by Manchester United scout Les Kershaw, who remarked that the twins reminded him of "two little whippets". Kershaw then telephoned Manchester United manager Alex Ferguson and recommended that the club sign the Da Silva twins.Manchester United got in touch with Fluminense and asked permission for the twins to travel to Manchester to train with them in 2005. Shortly afterwards, a scout claiming to represent Arsenal visited the twins and asked them to come to England to train with Arsenal without the permission of Fluminense; however, they were dissuaded from this by their mother, who reminded them that they had been with Fluminense since they were 11, and that they should show the club some loyalty. Therefore, they decided to sign for Manchester United over Arsenal, and the two clubs agreed a deal in February 2007; the twins moved to Manchester in January 2008 without ever having played for the Fluminense first team.
Despite signing for the club in February 2007, Fábio was unable to be registered as a Manchester United player or play in matches for the club until his 18th birthday on 9 July 2008. He made his first appearance for Manchester United on 4 August 2008, coming on as a half-time substitute for Patrice Evra in a 2–0 friendly win away to Peterborough United. His performance in that game was praised, with Today claiming that "Manchester United finally found out what they were missing". He has since played in eight matches for the club's reserve team, scoring five goals – including a hat-trick against Rochdale in the Lancashire Senior Cup on 16 March 2009 – and was named on the bench for United's second league game of the season against Portsmouth on 25 August 2008.However, Fábio's competitive debut for the Manchester United first team was delayed by a shoulder injury, which required surgery.
On 21 October, Fábio was handed his Champions League debut in a 1–0 win over CSKA Moscow; he started the game but came off shortly before the end with an injury. Sir Alex Ferguson expressed his pleasure with Fábio's performance, especially with the game being played on an artificial surface. On 27 October, Fábio was booked for a foul committed by his twin brother Rafael in United's 2–0 League Cup victory over Barnsley. Manchester United appealed and The FA agreed it was a case of mistaken identity, transferring the card to Rafael. On 1 April 2010, Fábio signed a contract extension with Manchester United that will tie him to the club until at least June 2014. Fábio scored his first goal for United on 26 February 2011, netting the final goal in a 4–0 away win over Wigan Athletic. Just 2 weeks later he scored again, netting his first FA Cup goal and first at Old Trafford, opening the scoring in a 2–0 win over Arsenal.
Fabio Da Silva Trainning
Fabio Da Silva and Rafael Da Silva
Fabio Da Silva Wallpaper
Best Smile Fabio Da Silva