Luís Fabiano Clemente (born November 8, 1980), commonly known as Luís Fabiano, is a Brazilian footballer who currently plays for São Paulo and the Brazilian national football team as a striker.
Early career
Luís Fabiano enjoyed great success during two spells with Brazilian side São Paulo FC, with a disappointing period at French side Rennes sandwiched in between. His strength on the ball, accurate finishing, and pace made him a vital part of the side that fell in the semi-finals of the 2004 Copa Libertadores de América. Luís Fabiano was labeled the "bad boy" of Brazilian football when playing for São Paulo after a number of brawls. During a 2003 Copa Sudamericana match for São Paulo against River Plate of Argentina, a fight between the players broke out. Luís Fabiano ran behind a River player and kicked him just below the neck.
FC Porto
Luís Fabiano moved to Portugal to play for FC Porto in 2004 for a €1.875 million transfer fee; Porto, however, only bought 25% of his rights, the other 75% belonging to Global Soccer Investments. There, Luís Fabiano was reunited with his international teammate Diego, who he played with on the Copa América 2004. He had a troublesome season, however, scoring only three goals in 22 matches. This led to Luís Fabiano being transferred to La Liga side Sevilla FC.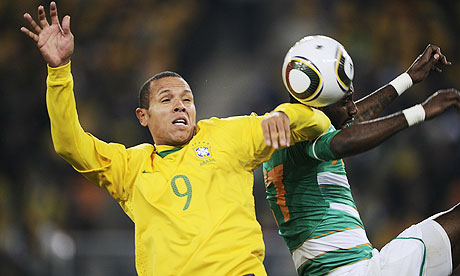 Sevilla
On 10 May 2006, Luís Fabiano scored a header during Sevilla's 4–0 victory over Middlesbrough in the UEFA Cup Final. The success continued in the 2007–08 season, as Luís Fabiano finished runner-up in the Pichichi Trophy with 24 goals (including two from the penalty spot), second only to Dani Güiza, who had a total of 27 goals. On 4 July 2009, Milan in Italy made an official offer for the Brazilian, according to the striker's agent, and Luís Fabiano reportedly pleaded with his club Sevilla to allow him to make the switch to the San Siro. The deal, however, did not go through.On the 30 August 2010, Luís Fabiano put an end to the speculation with a move away from Sevilla by signing a contract extension until 2013, on the renewal he stated his intentions: "This is my home, I've been here six seasons and I will try to continue scoring goals and continue making history for Sevilla."
Luis Fabiano Performance
Luís Fabiano made his debut for Brazil on 11 June 2003 in a friendly against Nigeria, marking his international debut with a goal before being substituted. He was also included in Brazil's squad for 2003 FIFA Confederations Cup, but did not make any appearances.He won the Copa América 2004 tournament with Brazil, where he started in all five matches alongside fellow striker Adriano. With his poor form in Europe with FC Porto and Sevilla FC, however, he did not make any further international appearances for more than three years.
Luis Fabiano Wallpaper
Luís Fabiano scored his first international goal in nine months with a right-footed strike against Ivory Coast on 20 June 2010 in the 2010 FIFA World Cup. He followed it up with a second goal, which he scored after touching the ball with his hands on two occasions. His third goal of the competition came against Chile in the Round of 16 on 29 June 2010, as Brazil won 3–0.