Luis Alberto Suárez Díaz (Spanish pronunciation: [ˈlwiz 'swares]; born 24 January 1987), commonly known as Luis Suárez, is a Uruguayan international footballer who plays for Premier League club Liverpool as a striker. Suárez also plays for the Uruguayan national team. He is known as 'El Pistolero' (The Gunner). Suárez grew up in Salto alongside six siblings, with a single mother. In 2005, he began his professional career at Montevideo side Nacional. His older brother Paolo Suárez is also a professional football player.
He moved to the Netherlands with Eredivisie side Groningen in 2006 at the age of 19, before transferring to Ajax in 2007. He made a major impact at the Amsterdam club as a supporting striker with the main striker initially being Klaas-Jan Huntelaar, then Marko Pantelić, and later Mounir El Hamdaoui. Following the arrival of manager Martin Jol at Ajax and the departure of Thomas Vermaelen to Arsenal in 2009, Suárez was made the club captain. Suarez moved to Liverpool for €26.5 million in January 2011, briefly becoming the club's most expensive player.
In 2010, Suárez was named Dutch Footballer of the Year, having ended the season as top scorer in the Eredivisie with 35 goals in 33 league matches (49 goals in all competitions). On 5 August 2010, Suárez became a father, with his wife bearing a baby daughter in Barcelona. Also in 2010, Suárez became a member of the select group of players having scored more than 100 goals for Ajax in competitive matches, joining players like Johan Cruyff, Marco van Basten, Dennis Bergkamp and Klaas-Jan Huntelaar. In 2011, Suárez scored four goals for Uruguay in winning the 2011 Copa América, and was named player of the tournament.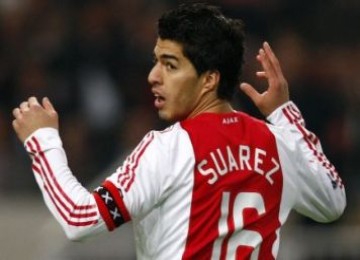 In Uruguay, Suárez played for Nacional. During his time with the Uruguayan club under the management of ConCon, he won the national championship. In his first season with the club he scored 13 goals but only played in 16 games.
At the start of the 2010–11 season, Suárez scored his 100th goal for Ajax, in a 1–1 home draw against PAOK in the Champions League third qualifying round. On 29 August 2010, Suárez scored a hat trick against De Graafschap in a 0–5 away win. In November 2010, Ajax suspended Suárez for two league matches after he bit PSV Eindhoven's Otman Bakkal on the shoulder during their 0–0 draw on 20 November 2010. He was also fined an undisclosed amount which the club said they would donate to a "good cause". The Dutch daily newspaper De Telegraaf branded Suarez the "Cannibal of Ajax". The KNVB penalized Suárez with a suspension for seven league matches.
On 28 January 2011, Ajax accepted a £22.8 million (€26.5 million) offer for Suárez from Premier League club Liverpool F.C. The following day, Suárez passed his medical and signed a five and a half-year deal that will keep him with the club until 2016.Suarez was given the number 7 shirt previously worn by manager Kenny Daglish. He became the club's record signing for approximately 1 hour and 30 minutes until the arrival of Andy Carroll from Newcastle United.Suárez made his Liverpool debut on 2 February against Stoke City at Anfield, coming off the bench in the 63rd minute to score Liverpool's second goal in front of the Kop as they won 2–0.Suárez made his first start for Liverpool against Wigan Athletic on 12 February 2011, and he scored his second Liverpool goal against Sunderland.
On 1 June 2010, Óscar Tabárez announced that Suárez would be part of the final squad of 23 participating in the 2010 World Cup. Suárez was a starter in all three Uruguay's group matches at the World Cup. On 22 June, he scored his first goal against Mexico and helped Uruguay win their group. On 26 June 2010, during the Round of 16, he scored both goals against South Korea in a 2–1 win and put Uruguay through to the quarter-finals for the first time since 1970. During the 2010 World Cup, Suarez scored three goals, made six appearances, played for 543 minutes and received one red card.
Suárez was included in Tabárez's winning squad for the 2011 Copa América, in which he was named player of the tournament, and scored 4 goals, including two in Uruguay's semi-final match against Peru, and one in the final against Paraguay.