Xabier "Xabi" Alonso Olano (Basque pronunciation: [ˈʃabi aˈlons̺o]; born 25 November 1981) is a Spanish World Cup-winning footballer who plays for Real Madrid as a midfielder.Alonso began his career at Real Sociedad, the main team of his home region Gipuzkoa. After a brief loan period at SD Eibar he returned to Sociedad where then manager John Toshack appointed Alonso as his team captain and Alonso succeeded in the role, taking Real Sociedad to second place in the 2002–03 season. He moved to Liverpool in August 2004 for £10,5 million.
He won the UEFA Champions League in his first season at the club, scoring the equalising goal in a final in which his team had been 3-0 down at half-time. The following season he won the FA Cup, and subsequently also the FA Community Shield. He moved to Real Madrid for the start of the 2009–10 season, in a deal worth around £30 million, thus making him the fourth most expensive midfielder. Internationally, Alonso has represented Spain in the Euro 2004, Euro 2008 tournaments and in the 2006 World Cup and 2010 World Cup. He made his international debut in April 2003 in a 4–0 victory against Ecuador. He won the Euro 2008 and the 2010 World Cup with Spain.
He holds the record for the longest-range goal ever scored in open play in the Premier League, being some 61 yards away from Steve Harper's line when he netted against Newcastle United in 2006. The season before, he scored from 78 yards with an effort against Luton Town at Kenilworth Road in the FA Cup.
Alonso handed in a transfer request in late July and completed a £30 million move to Real Madrid on 5 August 2009. He was handed the number 22 jersey in Madrid and continues to play in a holding midfield position. It is believed that Alonso never wanted to leave the Anfield side, with his contract existing until at least 2012, but differences with former manager Benítez during the start of 2008-09 season made him think otherwise. Former teammate Steven Gerrard said he was devastated by Alonso's decision and cited his departure as one of the causes behind Liverpool's poor run of form at the start of the following season. Alonso scored his first goal for Real Madrid on 21 February 2010, scoring the final goal of the match, a penalty against Villareal in a 6–2 win.
His second season at Real Madrid started with the arrival of a new manager, José Mourinho. He was given the number 14 jersey after the departure of vice-captain Guti. On 6 June, When asked if would ever consider returning to Liverpool, Alonso told Liverpool.tv "Why not?", he also said "At the moment I don't know what is going to happen, but it could be a possibility. Never say never. The 14th of August he scored the equalizing goal against Barcelona in the spanish super cup .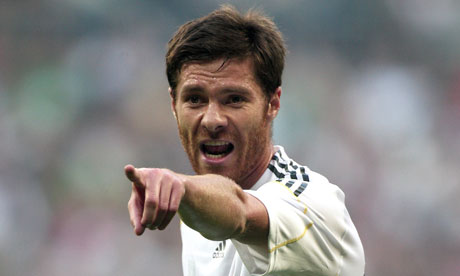 Xabi Alonso started every game for Spain during the 2010 tournament, playing alongside Sergio Busquets and Xavi Hernández in midfield and helping his side to lift their first ever World Cup trophy. In the 28th minute of the final against the Netherlands he received a Kung fu-style kick to the chest from Dutch midfielder Nigel de Jong, this left Alonso in pain and in fear of a broken rib. Despite this pain, he continued playing on for another hour.
Xabi Alonso Best Smile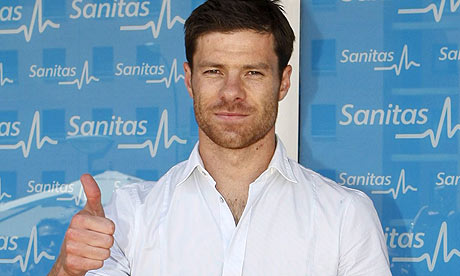 Xabi Alonso Wear White Clothes
Best Kick Xabi Alonso
Xabi Alonso Look so Handsome