Ryan Joseph Braun (born November 17, 1983, in Mission Hills, Los Angeles, California), nicknamed The Hebrew Hammer, is an American right-handed Major League Baseball All-Star left fielder with the Milwaukee Brewers. He played college baseball at the University of Miami.
He won the National League Rookie of the Year Award in 2007, after leading the National League (NL) in slugging percentage, while setting a major league rookie record. He also won the Sporting News NL Rookie of the Year, the Baseball America Rookie of the Year, the Baseball Prospectus Internet Baseball NL Rookie of the Year, and the Players Choice NL Most Outstanding Rookie Awards. Over the prior decade, the only other NL hitter to win all five awards was Albert Pujols, in 2001.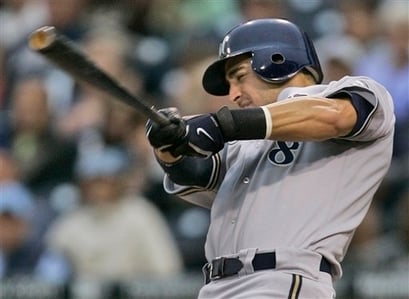 Braun was voted a starting NL All Star outfielder in 2008 through 2011, won the 2008–10 NL Outfielder Silver Slugger Awards, and was the starting left fielder for the USA team in the 2009 World Baseball Classic. He also led the NL in extra-base hits in 2008, and in hits for the 2009 season. Braun was named to the Sporting News' list of the 50 greatest current players in baseball, ranking No. 32 on the list in 2009, No. 22 in 2010, and No. 16 in 2011.
Ryan Braun Baseball player
Best Smile Ryan Braun
Ryan Braun in Action
Ryan Braun Casual Clothes
Ryan Braun Exppression
Ryan Braun on the Coat
Ryan Braun Wallpaper
Ryan Braun Blue Costume and Hat